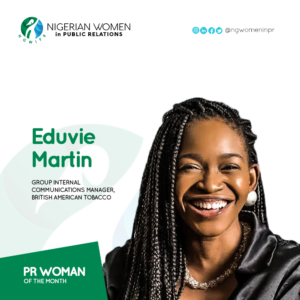 Nigerian women in PR got the privilege of an interview session with Eduvie Martin, the head of Marketing and Communications, as well as the Executive Director of Africa's largest publisher of independent comic books – Comic Republic.
In this interview, Martin who also serves as the Global Internal Communications Manager at British American Tobacco (BAT), gives us a glimpse into the genesis of her career, the most challenging part of her job and her sentiments on relevant Public Relations phenomena. Enjoy!
What does PR mean to you?
When I think of PR, it is everything I dreamt of, from the very first day I realized that I like to communicate. Public Relations is the embodiment of everything Comms From internal comms to external comms and all the in-betweens. That's what it means to me.
I think it represents this body of work that gives you the opportunity to evoke words that would create the right emotions within individuals that you engage with.
How did you get into the business of PR? Was it always something you wanted to do, or you discovered a passion for it along the way?
PR is something I always could do, I just didn't know I should. I always wanted to be one of the science students, because when I was growing up, I thought "all the smart girls are in sciences". So, even as a science student, I found myself constantly excelling in everything Comms, and afterwards, I just gravitated towards Comms
It was all by chance. I read a Science degree, graduated and started working in a bank, because that was what we all did then (chuckles). The banks were always the first to hire the new graduates. So, I started working in the bank and while I was working in Customer service, I found myself constantly exhibiting Comms skills. So, when a comms role came up, I applied, got in and that was how my career started within First Bank of Nigeria.
What will you say has been the most challenging part of your role so far?
I think it would be managing stakeholders, hands down. I think acquiring the right skills to excel in this field is something you can dedicate time and effort to, but (when) managing stakeholders, you can't exactly know what sort of stakeholders you will face at each point in time in whatever project. Sometimes the agenda of your stakeholders is different from the project agenda, and you have to be very observant to listen and understand all the nuances in the room to get things done. So, that has been something I've struggled with and still struggle with today.
What are your thoughts on getting a PR degree in today's world?
I was in Sciences for all of my life until I graduated, so certificates were very important to me. Because (regardless of) everything I knew, even when I was exhibiting the Comms Skills, I felt like it wasn't enough until I went and got all the certificates. I'm currently on my Chartered Institute of Public Relations diploma, and all of the information that have come out of those things have been very useful.
I would say, if you are new to PR, do get the certifications. However, what I keep telling people is "focus more on growing the skills when possible, on-the-job skills". I don't go for certificates because I want to put some letters behind my name, I go for certificates to give me an understanding of the job or what I need to do, what additional skill I need to get my job done.
So, I'm constantly saying to anyone who comes to me, if you've got an opportunity to learn on the job, do that. Be very good on the job."
What advice will you give to PR practitioners trying to work their way up the professional ladder?
For the entry-level practitioners, I would say they should be willing to do all, rather than just sticking to external comms or internal comms. This makes them well-rounded and gives them more opportunities to grow.
For middle-level practitioners, your network is important. Beyond growing your skills, you should also be connected to the right people that can give you access to more opportunities and resources needed to expand your frontiers.
If you could dispel any misconception or myth regarding PR, what would it be?
PR people are not just for the deployment stages, they are supposed to be included from the inception of campaigns/plans to the end. We should not just be called when it is time to send out press releases or newsletters. I don't like being told just let me send
What is the best advice you've ever received?
My husband always says that at the end of the day, PR is all about people. So, in all we do, we must remember that there are people involved. We should be kind, not because we expect something in return, but just for the sake of it.