In the fast-paced world of PR and communications, it is very important to stay ahead of the curve. One of the best ways to do this is through ongoing training and education. In this article, we'll explore the benefits and importance of training for PR and communications professionals and how to make the most of them.
Benefits of Training for PR and Communications Professionals
1. Stay Up-to-Date with the Latest Trends and Best Practices
PR and communications are constantly evolving, with new technologies and trends emerging all the time. Training programmes provide opportunities to learn about the latest industry developments and best practices, ensuring you stay current and competitive in your field.
2. Improve Your Skills and Expertise
PR and communications training programmes can help you develop new skills and deepen your existing expertise. From mastering social media marketing to honing your crisis management skills, training can help you become a more effective and versatile professional.
3. Expand Your Network
Training programmes offer a great opportunity to meet and connect with other PR and communications professionals. You'll have the chance to network with peers, learn from industry experts, and build relationships that can benefit you throughout your career.
4. Boost Your Confidence and Credibility
Taking part in training programmes can help you feel more confident in your abilities and enhance your professional credibility. This can lead to increased opportunities for advancement and career growth.
How to Make the Most of PR and Communications Training
It's one thing to go for a training and it's another to leverage on the experience for effective results. Here's how to do so:
1. Choose the Right programme
When selecting a training programme, look for options that align with your specific goals and interests. Consider factors such as the programme's format, duration, cost, and level of customisation.
2. Make Time for Learning
Ensure that you dedicate enough time to attend and engage with the training programme. Be prepared to commit the necessary time to absorb the material and participate in any interactive exercises or discussions.
3. Apply what you've Learnt
After completing a training programme, take the time to apply what you've learned in your work. This will help reinforce your new knowledge and skills and provide an opportunity to demonstrate their value to your team or employer.
4. Seek Feedback and Mentorship
Finally, seek feedback and mentorship from others in your organisation or industry. Ask for input on your progress, and seek out advice from mentors or colleagues who have successfully applied the skills and knowledge you've learnt.
Training is a vital component of ongoing professional development for PR and communications professionals. By staying up-to-date with industry trends, expanding your skillset, and building relationships with peers, you can position yourself for long-term success in this exciting and dynamic field.
Now, if you are ready to start your PR business or take it to the next level, you should join the waiting list for our upcoming training 'How to Start, Grow and Scale your PR Business' in May.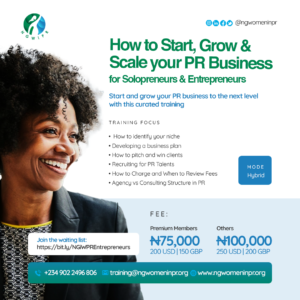 Some of the key areas the training will focus on are:
• How to identify your niche
• Developing a business plan
• How to pitch and win clients
• Recruiting for PR Talents
• How to Charge and When to Review Fees
• Agency vs Consulting Structure in PR
Click here to join the waiting list.